NASA unveils new suit for astronauts on the Artemis lunar mission
NASA has revealed the spacesuits that astronauts will wear on the Moon for the upcoming Artemis lunar missions, which will see the first woman and man of color reach the surface of the Moon.
"We haven't had a new suit since the suits we designed for the Space Shuttle and these suits are currently in use on the space station – so for 40 years we have been using the same suit based on this technology. . said Vanessa Wych at NASA's Johnson Space Center in Houston, Texas, at a March 15 press conference.
The new suit, built by private company Axiom Space for NASA, is designed to operate in the harsh environment of the moon's south pole, where temperatures average around -13°C (9°F) but can drop hundreds of degrees. lower in craters in permanent shadow.
It will also have improved mobility over previous suits, weigh 55kg, about 25kg lighter than the suits worn by the Apollo astronauts, and have more custom joints for a greater range of motion. Since the suit has so many hinges, it is not easy to take it on and off. Astronauts will need to crawl through a hatch at the back of the suit to enter.
The suit also features a panel of lights above the helmet for working with instruments and scientific instruments in low light, as well as a high-definition camera so people on Earth can watch what the astronauts are doing.
Photos posted by Axiom Space show a suit with a black outer layer designed by Esther Marquis, costume designer from the Apple TV+ sci-fi series. For all mankind in Axiom brand colors. The suits worn on the Moon will be white to reflect heat and keep the astronauts at the right temperature.
If all goes according to schedule, NASA's Artemis 3 mission will land the first woman and person of color on the moon in 2025. Historically, space exploration, especially on the Moon, has been done almost exclusively by white men. Until last year, for example, the specific radiation risk for women had never been studied.
Giant algae blob targets Florida and Mexico beaches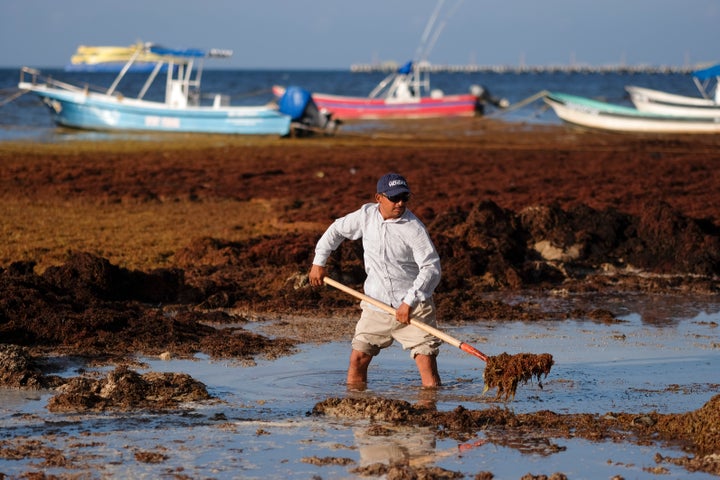 Giant swarms of kelp could soon settle along beaches in Florida and across the Gulf of Mexico, scientists warn, polluting popular tourist destinations for months.
Seaweed is a type of leafy floating algae called sargassum — typically spends most of the year swinging in a 5,000-mile-wide mass across the Atlantic Ocean. Sargassum is generally helpful while at sea, providing food and breeding grounds for a variety of species, including fish, sea turtles, and seabirds.
The real danger of the Sargassum comes when it is washed ashore. Seaweed begins to rot after a few days on land, releasing hydrogen sulfide gas that smells like rotten eggs and leaving behind a brown sludge that can contaminate beaches for weeks. Hydrogen sulfide can threaten human health, and the sheer amount of seaweed could be too much for local crews.
Parts of the Yucatan Peninsula in Mexico were enveloped by approximately 200 tons sargassum earlier in March, prompting warnings of "surplusAlgae levels near the popular Playa del Carmen. Officials have warned that some beaches are at risk of up to 3 feet of seaweed a week, with no signs of sargassum decreasing as summer approaches.
The media in Key West also reported much earlier than usual. sargasso floods last week.
For the first time scientists noted supercharged seaweed rafts in 2011. Some researchers suggest that they may increase as the runoff of fertilizers and agricultural waste flows into the ocean in large quantities.
"These flowers are getting bigger and bigger, and this year looks set to be the biggest on record." – Brian Lapointe, research professor at Florida Atlantic University said New York Times. "It's pretty early to see so much, so soon."
Large areas of sargassum are currently floating in the northern Caribbean and near the east of Mexico's Yucatan Peninsula.
University of South Florida, which monitors annual seaweed bloom, predicts that 2023 will be "mainSargassum year, upcoming tourist plans and the threat to coastal ecosystems.
Los Angeles healthcare operators charged with 14 COVID-19 deaths
On Tuesday, operators at a high-profile dementia care facility in Los Angeles were charged with elder abuse and other felony charges related to the death of an employee and 13 residents in the early days of the pandemic.
The Silverado Beverly Place Memory Care Community, near the Fairfax area, specializes in caring for older residents with Alzheimer's and dementia and was the site of the March 2020 COVID-19 outbreak.
An employee and residents died during the outbreak, when 45 employees and 60 residents were infected, according to the Los Angeles County District Attorney's office. The operators of the facility were sued in civil court by the family of several residents and the deceased employee. The object was the subject of a 2020 Times investigation.
The facility was supposed to be closed to visitors, prosecutors said, when a patient from a New York psychiatric ward was admitted there. Silverado Beverly Place's own protocols required it to keep anyone out of a high-risk area like New York City, which at the time was considered the epicenter of COVID-19.
Prosecutors say the patient was not tested for coronavirus when he was admitted to the hospital and developed symptoms the next morning. But after they tested positive, they were not placed in quarantine, according to the criminal charge.
The prosecutor's office claims that the institution's management did not block visitors who traveled within the country or abroad for 14 days to areas where cases of COVID-19 were confirmed.
"These careless decisions created conditions that unnecessarily exposed Silverado personnel and residents to serious injury and, unfortunately, death," Dist. Atti This is stated in the statement of George Gascon.
The three managers were charged with 13 counts of felony endangering the elderly and five counts of misdemeanor resulting in death. The latest charges were brought in connection with the management of the company's health and safety of employees. Lauren Bernard Shook, Jason Michael Russo, and Kimberly Cheryl Batrum were charged, along with Irvine-based Silverado Senior Living Management Inc.
Prosecutors say the New York City patient was admitted to Silverado Beverly Place for financial reasons.
Investigators from the California Division of Occupational Safety and Health conducted a two-and-a-half-year investigation at Silverado Beverly Place, whose parent company operates several nursing facilities across the country. According to Cal/OSHA, Silverado Beverly Place was cited for violating the airborne disease standard, which is designed to protect "employees who are at increased risk of contracting certain airborne infections due to their work activities. ".
The facility listed $114,500 in proposed fines for violations, the unit said, but it appealed the fines.
Email Silverado Senior Living Management Inc. asking for comment on the allegations was not immediately resolved.
Gascon also read out the names of the 14 dead during a press conference in downtown Los Angeles. These nurses are Brittany Bruner-Ringo, Elizabeth Cohen, Joseph Manduke, Catherine Apotaker, Jake Khorsandi, Albert Sarnoff, Dolores Sarnoff, Myrna Frank, Frank Piumetti, Jay Tedeman, Luba Paz, Kay Kiddu, Richard Herman and Michael Horn.
Bruner-Ringo told her mother that the newly admitted patient was showing signs of illness – profuse sweating, a "productive" cough and a temperature close to 103 degrees, her mother told The Times.
"I said, 'It's definitely problematic,'" recalls Kim Bruner-Ringo, an experienced nurse in Oklahoma City.
The patient was so ill that Brittany Bruner-Ringo called 911 for an ambulance, but it was too late. In the days and weeks that followed, the virus spread throughout the facility.
According to her family, Bruner-Ringo stopped breathing on April 20, 2020 in the intensive care unit at Harbor-UCLA Medical Center. she was 32
"Every day I just prayed that Brittany could tell her own story," her sister Breanna Hurd said.
Los Angeles criminal defense attorney Alan Eisner, who is not involved in the case, said the allegations are unique because they concern decisions made by senior care facility leaders in the early days of the pandemic.
"This is a once-in-a-generation pandemic," Eisner said. "I don't want to ignore all the people who died. But this is a high bar that prosecutors must prove and show that the institution is responsible for the death of all other patients and even a nurse."
Jody Moore, an attorney representing seven clients who either became ill with COVID-19 or died in Silverado, said that by early 2020, the federal government had provided guidance to long-term care facilities on how to protect older residents, including screening and testing policies. .
"It doesn't make sense to say loved ones can't get in, private caregivers can't get in because their paperwork says we're putting residents at significant risk by exposing them to what can enter through the front door." Moore said. "What they let in through the front door was someone with dollars attached. And that's what's really egregious misconduct here."
Helena Apotaker received an email from the institution in the early days of the pandemic informing her that she would not be able to visit her mother Katherine. The announcement said the facility is being closed for the safety of elderly residents.
"No one was allowed in," Apotaker told The Times. "They were going to protect our loved ones. This was their top priority. Well, not 30 days later, I think they lost their top priority."
According to Apotaker, her mother had early stages of Alzheimer's but was generally in good health. After her mother tested positive for COVID-19, Apotaker placed her in a hospice and was finally allowed to visit in person.
"I was in the building with my mother for a week when she died," Apotaker said. "I can't imagine what it was like for everyone who had to watch their parents die through a window or watch their loved ones die on FaceTime."
Upon hearing the news that Silverado Beverly Place was under criminal investigation, Apohacker was filled with a sense of justice because it seems that people have forgotten about the pandemic and the people who have died.
"But I remember that my mother died," she said. "The only thing I had to hold on to was the thought that maybe one day I would get justice."
Times Staff Writer Harriet Ryan contributed to this report.
NASA awards advanced 3D printing and quantum technologies for climate research

New technologies are key to helping NASA achieve its long-term research goals for the benefit of all. To support its efforts, the agency announced on Thursday that it will create two new institutes to develop technologies in the critical fields of engineering and climate research.