Most Frequently Asked Questions About Affiliate Marketing
There are many questions about how affiliate marketing works, what to do and what not to do when it comes to building a business. With so much uncertainty associated with both the personal and business aspects of affiliate marketing. In this post, we will answer the most frequently asked question about affiliate marketing.
1. What is affiliate marketing?
Affiliate marketing is a way to make money by promoting the products and services of other people and companies. You don't need to create your own product or service, just promote existing ones. That's why it's so easy to get started with affiliate marketing. You can even start without a budget!
2. What is an affiliate program?
An affiliate program is a package of information that you create for your product that is then shared with potential publishers. The program usually includes detailed information about the product and its retail value, commission levels and promotional materials. Many affiliate programs are managed through an affiliate network such as ShareASale, which acts as a platform for publishers and advertisers to connect, but it is also possible to offer your program directly.
3. What is an affiliate network and how do affiliate networks make money?
Affiliate networks connect publishers with advertisers. Affiliate networks make money by charging a commission to merchants who advertise with them; these merchants are known as advertisers. The percentage of each sale that the advertiser pays is agreed between the seller and the affiliate network.
4. What is the difference between affiliate marketing and drop shipping?
Dropshipping is a selling method that allows you to run an online store without having to stock items. You advertise products like you own them, but when someone places an order, you create a duplicate order with the distributor at a discounted price. The distributor will take care of shipping and packaging on your behalf. Since affiliate marketing is based on referrals and this type of drop shipping does not require an investment in inventory, when a customer purchases from an affiliate link no money is exchanged from hand to hand.
5. Are affiliate marketing and performance marketing the same?
Effective marketing is a marketing method that pays for performance, such as when a sale is made or an ad is clicked. This may include methods such as PPC (Pay Per Click) or display advertising. Affiliate marketing is a form of performance marketing whereby commissions are paid to affiliates based on the results when they click on their affiliate link and complete a purchase or action.
6. Can I promote affiliate offers on mobile devices?
Smartphones are essentially miniature computers, so publishers can display the same websites and offers that are available on a PC. But mobile phones also offer special tools not available on computers, and these can be put to good use by publishers. Publishers can optimize their ads for mobile users by making them accessible to this audience. Publishers can also make good use of text and instant messaging to promote their offerings. With mobile predicted to account for 80% of traffic in the future, publishers that don't market on mobile are missing out on a big opportunity.
7. Where can I find qualified publishers?
The best way to find affiliate publishers is through reputable networks like ShareASale Cj (Commission Junction), Awin, and Impact radius. These networks have a rigorous application and compliance process which means that all affiliates are trustworthy.
8. What is an affiliate disclosure statement?
The Affiliate Disclosure Statement informs the reader that the website may contain affiliate links for which the publisher may be paid a commission if visitors click on those links and make a purchase.
9. Does social media activity play a significant role in affiliate marketing?
Publishers promote their programs in a variety of ways, including blogs, websites, email marketing, and pay-per-click advertising. Social networks have a huge interactive audience, which makes this platform a good source of potential traffic.
10. What is a super affiliate program?
A Super Affiliate is an affiliate who consistently generates the most sales in any program they promote compared to other affiliates in that program. Affiliates make a lot of money from affiliate marketing Pat Flynn made over $50,000 in 2013 from affiliate marketing.
11. How do we track publisher sales?
Publishers can be identified by their publisher ID, which is used in tracking cookies to determine which publishers are generating sales. The activity is then viewed in the Network Dashboard.
12. Can we create an affiliate program in several countries?
Thanks to the widespread use of the Internet, affiliate programs can be promoted in any country. Partnership strategies established internationally should be adapted to the language of the target country.
13. How can affiliate marketing help my business?
Affiliate marketing can help you grow your business in the following ways:
This allows you to save time and money on marketing, which frees you up to focus on other aspects of your business.

You get access to friendly marketers who are willing to help you succeed.

It will also help you promote your products by sharing links and banners with new audiences.

It offers a high ROI (return on investment) and is cost effective.
14. How to find quality publishers?
One of the best ways to work with qualified affiliates is to hire an affiliate marketing agency that works with all networks. Partners are carefully selected and go through a rigorous application process to join the network.
15. How can we promote affiliate links?
Affiliate marketing is usually associated with websites, but there are other ways to promote your affiliate links, including:
Website or blog

Through email marketing and newsletters

Social networks such as Facebook, Instagram or Twitter.

Leave a comment on blogs or forums.

Write an e-book or other digital product.

YouTube
16. Do I need to pay for registration in the affiliate program?
To build your affiliate marketing business, you don't need to invest money in the beginning. You can register for free in any affiliate network and start promoting your brands right away.
17. What is a commission?
Commission rates are usually based on a percentage of the total sale, and in some cases may also be a flat fee per transaction. The rates are set by the seller.
Who manages your affiliate program?
Some merchants manage their affiliate programs in-house, while others choose to outsource management to a network or an external agency.
18. What is a cookie?
Cookies are small pieces of data that work with web browsers to store information such as user preferences, login or registration information, and the contents of a shopping cart. When someone clicks on your affiliate link, a cookie is placed on the user's computer or mobile device. This cookie is used to remember the link or ad that the visitor clicked on. Even if a user leaves your site and comes back a week later to make a purchase, you will still receive credit for the sale and receive a commission that depends on the duration of the site's cookies.
19. How long do cookies last?
The Seller determines the duration of the cookie, also known as the "cookie duration". The most common duration of an affiliate program is 30 days. If someone clicks on your affiliate link, you will earn a commission if they buy within 30 days of the click.
Closing Statement
Most new affiliates are looking to start their own affiliate marketing business. Unfortunately, there is a lot of false information that can mislead inexperienced affiliates. We hope that the answer to your question will clarify how affiliate marketing works and what pitfalls you can avoid. Most importantly, keep in mind that success in affiliate marketing takes time. Don't be discouraged if you don't start selling or making money right away. Most new affiliates take months to earn a consistent income.
Court rules Uber and Lyft can continue to treat California drivers as independent contractors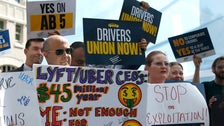 Sacramento, California. (AP) — App-based pickup and delivery companies like Uber and Lyft can continue to treat their California drivers as independent contractors, a state appeals court ruled Monday, allowing the tech giants to bypass other state laws requiring protection and benefits. for workers.
The ruling basically supports a voter-approved law called Proposition 22, which says drivers for companies like Uber and Lyft are independent contractors and are not eligible for benefits like paid sick leave and unemployment insurance. A 2021 lower court ruling declared Proposition 22 illegal, but Monday's ruling reversed that ruling.
"Today's decision is a victory for app workers and the millions of Californians who voted for Proposition 22," said Tony West, Uber's general counsel. "We are glad that the court respectfully treated the will of the people."
The decision is a defeat for the unions and their allies in the state legislature, who in 2019 passed a law requiring companies like Uber and Lyft to treat their drivers like employees.
"Today, the Court of Appeals decided to side with powerful corporations, not workers, in allowing companies to buy off our state labor laws and undermine our state constitution," said Lorena Gonzalez Fletcher, leader of the California Federation of Labor and former state legislator. Author of the law in 2019. "Our system is broken. It would be an understatement to say that we are disappointed with this decision."
The decision was not a complete defeat for the unions, as the court ruled that companies cannot prevent their drivers from joining a union and collectively bargaining for better working conditions, said Mike Robinson, one of the drivers who filed the lawsuit challenging the proposal. 22
"Our right to associate and bargain collectively opens a clear path for drivers and deliveries to hold giant corporations accountable," he said. "But make no mistake, we continue to believe that Proposition 22 – as a whole – is an unconstitutional assault on our fundamental rights."
In 2019, the California Legislature passed a law that changed the rules about who is an employee and who is an independent contractor. This is an important distinction for companies because employees are subject to a wide range of labor laws that guarantee them certain benefits, while independent contractors do not.
While the law has applied to many industries, it has had the biggest impact on app-based car ordering and delivery companies. Their business is based on contracting people to use their own cars for people transportation and delivery. Under the 2019 law, companies will be required to treat these drivers as employees and provide certain benefits that will significantly increase business costs.
In November 2020, voters agreed to exclude app-based car ordering and delivery companies from the 2019 law by endorsing the ballot proposal. The proposal included "alternative benefits" for drivers, including a guaranteed minimum wage and health insurance subsidies if they work an average of 25 hours a week. Companies like Uber, Lyft and DoorDash have spent $200 million on the campaign to make sure it gets through.
Three Drivers and the International Union of Employees in the South, arguing that the proposal to vote was illegal in part because it limited the power of the State Legislature to change the law or pass laws on workers' compensation programs. In 2021, a state judge agreed with them and ruled that companies like Uber and Lyft are no exception.
On Monday, a state appeals court overturned that decision, allowing companies to continue treating their drivers as independent contractors.
The decision may not be final. Employees International Union still has the option to appeal the decision to the California Supreme Court, which may decide to hear the case.
"We will consider all of these options as we decide how to ensure that the fight for these workers continues," said Tia Orr, chief executive of SEIU California.
UK bans TikTok on government phones for security reasons: NPR
LONDON — British authorities said Thursday they are banning Chinese video-sharing app TikTok from using government mobile phones for security reasons, following similar moves by the US and the European Union.
Cabinet Minister Oliver Dowden told Parliament that the ban applies to work phones and other devices used by ministers and civil servants. He called the ban a "cautious move" and said it does not apply to personal phones and devices.
"Given the particular risk associated with government devices that may contain sensitive information, it is reasonable and proportionate to limit the use of certain applications, especially when it comes to applications that can store and access large amounts of data," Dowden said. British legislators.
Last month, the US government instructed federal agency officials to remove TikTok from all government-issued mobile devices. Congress, the White House, the US military, and more than half of the US states have already banned the app.
The European Union, Belgium and other countries have also temporarily banned the use of the app on employee phones.
The moves were prompted by growing concerns that TikTok's parent company, ByteDance, would be sharing user data such as browsing history and location with the Chinese government or promoting propaganda and disinformation on its behalf.
The company insists such concerns are based on "misinformation" and said it is taking steps to strengthen the protection of user data from the UK and Europe.
"We believe these bans are based on fundamental misconceptions and driven by broader geopolitics in which TikTok and our millions of users in the UK play no role," the company said. "We remain committed to working with the government to resolve any issues, but we should be judged on the facts and treated equally with our competitors."
On Thursday, China accused the United States of spreading misinformation and cracking down on TikTok following reports that the Biden administration was urging Chinese owners of the short-video service to sell their stakes in the popular app.
Last year, the British Parliament closed its TikTok account, which was aimed at a younger audience, just days after it launched after concerns were raised by lawmakers.
Google Play Games for PC is coming to Europe and Japan and will add new games including Garena Free Fire.
In Keynote Address at Google's Annual Game Developers Summit Google said his Google Play Service Games for PC, which brings Android games to Windows users, will enter the markets of Japan and other European countries and will receive new names and tools for game developers. It should be noted that over the next few months, the service will add several popular games, including Garena Free Fire, Ludo King (a popular board game in India) and MapleStory M. In the meantime, Google Play is introducing early access to machine translation in the Play Console, which will allow game developers to translate their game into more than eight languages ​​for free within minutes, the company said.
Launched in beta testing in January 2022Google Play Games is designed to expand the reach of Android gaming by allowing consumers to play mobile games on their Windows PCs, in addition to supported platforms such as Android and ChromeOS mobile devices and tablets. With this service, gamers can pick up where they left off on one device when switching to another—something many Apple-focused games already offer, such as when users switch between iPhone, iPad, and Mac devices.
Initially available in overseas markets such as Hong Kong, South Korea and Taiwan, the service expanded into the US and other countries in November and currently operates in 13 markets including Australia, Brazil, Canada, Indonesia, Malaysia, Mexico, Philippines, Singapore and Thailand. Now Google says the service will roll out to Japan and several European countries within the next couple of months.
It also introduces a range of features aimed at game developers, including an emulator that offers a developer-focused build
Google Play games designed for debug and build process. This tool allows developers to deploy games directly, including by uploading APK files using the ADB command, and allows them to use Android Studio to tweak graphics and hardware settings to test different player configurations. (Developers will have to register here, the first to show interest in the service.)
As Google explains, the partnership with Intel allows developers to streamline the process of joining Google Play Games on PC with their existing mobile builds. If the mobile game is already working well on desktop, they can now apply to join the service.
The company also publishes new release checklist to help game developers make sure they have completed all the required steps
before submitting a build for approval, and added more metrics for games in Android Vitals. The latter includes newly launched frame rate metrics in the Play Console or through the Developer Reports API, which allow developers to check if their games offer at least 30fps, the technical quality required for the Google Play Games service for PC. Other technical updates have also been implemented to improve performance and user engagement, in addition to a new machine translation feature that will use Google Translate and Transformer-based language models to translate games into more than eight languages, including Simplified Chinese and Japanese.
Google has also teased the upcoming release of Next Generation Player IDs, which will keep a user's Player ID the same across platforms for any games, while still allowing them to be unique across games. This Play Games Services-based feature will arrive later this year.
Still considered beta, Google Play Games for PC requires users to run Windows 10 on a PC with 10 GB of available solid-state drive (SSD) storage, an Intel UHD Graphics 630 or equivalent, 4 physical CPU cores, and 8 GB of RAM. The company has yet to share an official public launch date.